By offering clients our Cost Segregations Study, Tax Professionals are earning significant income and it is a win-win for everyone. To learn more about how Cost Segregation can benefit your clients and about our CSR team, Click Here
FREE UP CASH

for your clients through an

IRS approved

Cost Segregation Study

.
Cost Segregation
(Engineering) Services
CPA Partnerships uses our expertise in technology and innovation to create loyalty partnership programs for Accounting and Real Estate professionals to increase their revenue and build trust with their clients who invest in commercial real estate.
If you have clients that own commercial property, there is a high probability that they will benefit from an IRS approved Engineered based Cost Segregation Study. Today, more than ever commercial property owners are looking to free up more cash.
The U.S. Treasury Department in 2004 stated:
"Cost Segregation is a lucrative Tax Strategy that should be used in almost every major purchase of Commercial Real Estate."
Tax firms who are offering our Cost Segregation service and freeing up cash by lowering their client's tax base are also benefiting from this IRS approved tax strategy.
CPA Partnerships provides our accounting partners free marketing tools to educate their clients of the benefits of Cost Segregation and we do not charge Affiliate fees.
Don't assume that your clients are too small to benefit from a Cost Segregation Study. Every building is a potential candidate for a study so the opportunities are virtually endless. We will provide your client through you a no-cost, no-obligation Cost Segregation Estimate and Proposal. It is a no-risk opportunity your client will thank you for.
If you are currently offering Cost Segregation services, we ask that you compare our experience and services. If you do not currently offer Cost Segregation services, we will provide you everything necessary to offer this service which will be financially rewarding for you and your clients.
Our Engineers
The CSR engineer team has more experience and has created thousands of Cost Segregation Studies for accounting firms throughout the U.S. from a variety of industries and across all major property types i.e., offices, retail centers, medical facilities, car dealers, grocery stores, hotels, golf courses, apartments, manufacturing plants, restaurants, branch banks, large construction projects involving multiple buildings and construction costs in excess of $100 million and our clients receive a detailed report that is easy for Accountants to read.
Our CSR team has a database of over 10,000 studies in order to provide you and your clients accurate estimates and our CSR team will defend our product from any IRS scrutiny. Your customers always comes first.
An Average Cost Segregation study can identify up to 20% - 40% of a property's value for reclassification.
These reclassified components receive an accelerated depreciation period of 5 - 7 years for personal property and 15 years for land improvements.
An average client receives a Net Present Value benefit of over $200,000 and our average Tax Partner receives a net profit of over $4,000 plus additional tax preparation fees. Cost Segregation Services are lucrative for both the clients as well as our Tax Partners.
A Cost Segregation Study is a great service that every commercial property owner should take advantage of.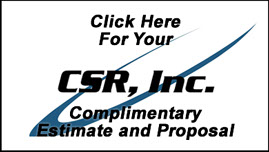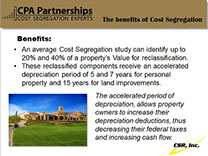 Partnership Program Information Request
What's in it for the customer:
What's in it for the Tax Partner Firm: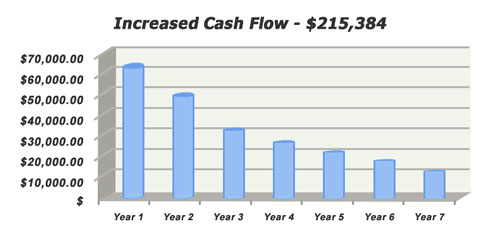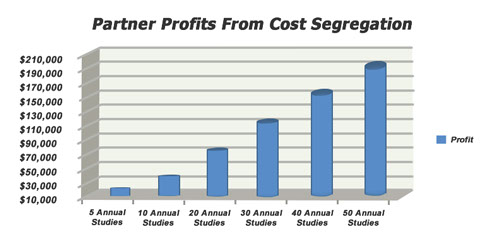 To learn more about our Cost Segregation Services, our Partner Program and more, Click Here
Our Tax Partners are Nationwide